Brad Bemis, MS, CISSP, CISA
| Founder | Principal SecureIT Strategist | Cybersecurity Cultural Transformation Champion |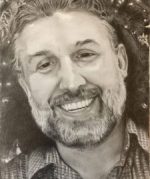 Hello, my name is Bradley and I've been working in the IT and Cybersecurity industry for over 30 years now. My engagement portfolio includes time spent in the trenches with Microsoft, T-Mobile, Lucent, Clearwire, Integra, Starbucks, Nordstrom, Expedia, REI, Boeing, SAIC, BBA, Airborne Express, Symetra Financial, Overlake Hospital, Jefferson Healthcare, and countless other small to medium-sized businesses, enterprise customers, and consulting houses. I'm also a U.S. Air Force veteran and have worked with a variety of military organizations and government agencies around the world.
In 2012, I launched SecureITExperts as an Information Risk Management and Cybersecurity Consulting firm focused on providing strategic security management services to organizations of all types and sizes. Then, in 2014, I experienced a rather profound personal shift in the way that I see the world, a transformational change in perception that was deeply psychological, heart-centered, and wisdom-based. I stepped away from the industry for about a year, integrating new inner insights and doing volunteer work with the homeless. After that, I started to split my professional work between cybersecurity engagements and teaching contemplative wisdom practices.
Eventually, it became apparent to me that these two worlds were mutually supportive and deeply complimentary – that the same realizations that emerge through contemplative wisdom practice can play a major role in how we address the root-cause challenges present in cybersecurity today. Ultimately, we are talking about transformation – transformation at the individual and organizational levels. We are talking about the rich, complex world of the human mind; how it thinks, perceives its environment, and engages the systems and structures that it encounters. What could be more applicable to exploring human risk factors?
After having formally studied behaviorism and motivational science, earning a master's degree in counseling, and starting a Ph.D. in psychology, I'm now devoting the remainder of my career to finding new and novel ways to tackle the human risk factors present within organizational systems. I've always made security awareness and training a central feature of my work. Going forward though, I'm taking this specialized skillset to a whole new level – SecureITExperts is reshaping itself to become an evidence-based, results-driven implementation champion for engaged information stewardship across the business enterprise.
Our new mission is entirely focused on security culture and transformation – specifically on issues of policy, awareness, training, and communications within organizations trying to enhance their protective postures by promoting the people-oriented processes and practices that are so critically essential within the domain of cybersecurity.
Professional Experience
Over my 30-year career in cybersecurity, I have held nearly every type of security role imaginable and have enhanced my understanding of the human risk factors by branching out into psychology, education, and business. To briefly summarize, my areas of professional experience and expertise include:
Built entire cybersecurity programs from the ground up using ISO, ITIL, COBIT, NIST, SANS, SSE-CMM, etc.
Directed compliance initiatives for SOX, HIPAA, GLBA, PCI, FISMA, GDPR, DFARS, breach laws, etc.
Partnered with executive-level committees to determine risk appetite, set priorities, and create metrics
Engaged in formal and informal security risk assessments leveraging OCTAVE, FAIR, FRAP, FIRM, etc.
Formalized risk management tools and techniques emphasizing ownership and accountability
Authored clear and functional enterprise security policies, standards, guidelines, and procedures
Defined and delivered structured security awareness, training, and education materials at all levels
Configured and monitored firewall, IDS, and VPN devices, malicious code defenses, and encryption systems
Created and implemented system hardening standards for applications, platforms, and devices
Aided development teams to incorporate security into the SDLC via AGILE, Waterfall, DevOps, and more
Administered and conducted penetration testing of systems, applications, databases, and networks
Streamlined threat management and vulnerability remediation capabilities across entire enterprises
Spearheaded business continuity, disaster recovery, incident response, and digital forensic initiatives
Conducted security audits and compliance validation checks against established control baselines
Managed multiple large and complex projects in a manner consistent with PMI PMBOK methods
Led the work efforts of other security professionals and IT personnel in teams ranging from 6 to 30
Formulated and administered budget plans for annual program allocations of up to 4 million dollars
Increased effectiveness of security operations, enhanced customer trust, and influenced profitability
Participated in advancing the security profession through blogging, forums, and social networks
Maintained strong professional relationships and actively contributed to the security community
Technical Skills
Network: TCP/IP, IPX/SPX, NetBEUI, RIP, IGRP, EIGRP, OSPF, BGP, bare, virtual, cloud, hybrid, HPC, CSPs
Security: AAA/IDM/IAM, VPN, encryption, PKI, Firewalls, IDS/IPS, pen-testing, incident handling, forensics
Services: Ethernet technologies, Frame-relay, ATM, Token Ring, FDDI, X.25, 802.11 (wireless), 802.1x, etc.
Support: Cabling, switching, bridging, routing, client-server, security, testing, troubleshooting, recovery
Operating Systems: Windows 3.1/NT4 to Win10/2019 (w/IIS & Exchange), Unix, Linux, Solaris, Novell
Network Management: SNMP, OpenView, CiscoWorks, Tivoli, Optivity, SunNet Manager, SolarWinds
Languages: HTML, PHP, SQL, C, Visual C++, Visual Basic, Delphi, Assembler, Pascal, Perl, JavaScript
Formal Education
Ph.D. Psychology, CIIS (Applicant for Fall 2022, August start)*
M.S. Counseling, Walden University (CACREP-accredited, 4.0 GPA) (2021)
B.S. Information Technology, Minoring in Business Administration, University of Phoenix (2004)
A.A.S. Information Systems Technology, Community College of the Air Force (1998)
A.A.S. Personnel Administration, Community College of the Air Force (1998)
Additional graduate studies in business and education
* Early placement in special student status possible starting January 2022 – course selection 'Interpersonal Neurobiology'
Professional Certifications
Security Awareness and Culture Professional (SACP) [Pending: planned for Q1 2022]
Certified Information Systems Security Professional (CISSP) [Active: #24220, since June 2001]
Certified Information Systems Auditor (CISA) [Active: #

0331778

, since July 2003]
Associate Business Continuity Planner (ABCP)
Certified Lean Six-Sigma Greenbelt (CSSG)
Cisco Certified Network Associate (CCNA)
Cisco Certified Design Associate (CCDA)
Nortel Networks Certified Support Specialist (NNCSS)
CompTIA Certified Network Technician (Network+)
Microsoft Certified Systems Engineer, Microsoft Certified Professional plus Internet
Successfully completed 2 of the 4 CCNP exams (routing and switching)
Specialized Training

Teaching Adult Learners
Technical Training Instruction
Instructional Design
Registered Behavioral Technician
Behavioral Health Technician
Mindfulness for Professionals
Life Coaching
The Consultative Approach
Lean and Six-Sigma
Project Management
Military Leadership Training
Nordstrom Leadership Development Track
Seattle Institute for Management Studies
Crisis and Trauma Counseling
Dialectical Behavior Therapy
Nonviolent Communications
Cloud Security Management
Computer Security Incident Handling
Securing Microsoft Enterprise Platforms
Computer Crime and Investigations
Checkpoint Security Administration
Introduction to Cisco Router Configuration
Advanced Cisco Router Configuration
Accelerated Nortel Networks Router Configuration
Windows Architectural Design
Windows Server Administration
Exchange Server Administration
HP Openview Network Node Management
Introduction to UNIX
Advanced UNIX
Solaris Systems Administration
Solaris Shell Programming
Oracle Database Administration
Oracle Developer Application Design
Cabling for Voice and Data Networks
Motorola Voice Communications
Network Encryption Systems Administration
Network Planning
Network Systems Administration
Various ongoing security lectures, seminars, and events
Memberships and Affiliations
The Learning Guild
American Counseling Association
Florida Mental Health Counselors Association
Mental Health Association of Central Florida
Association for Contextual Behavioral Science
International Coaching Federation
Cloud Security Alliance (CSA)
Information Systems Security Association (ISSA)
Information Systems Audit and Control Association (ISACA)
Computer Technology Investigators Network (CTIN)
Agora Community – Seattle
InfraGard Affiliate – Seattle
Washington Software Alliance (WSA)
King County Bar Association (KCBA)
Pacific Northwest CISO Forum meetings and events
Former Seattle CSA Chapter Secretary
Former Puget Sound ISSA Chapter Secretary
Guest Instructor for the Pacific Northwest CISSP Study Group
Established the Security Program Management Forum for SecurityFocus.com
A key contributor in multiple online cybersecurity forums and communities
Maintained an information security portal and blog at www.secureitexperts.com
Regularly consulted on issues of security awareness and training, policies and procedures, leadership and management, career development matters
Projects and Programs of Interest
National Council for Workforce Education
H-Layer awareness and culture certification initiative
Behavioral Engineering as applied to cybersecurity
The BJ Fogg Behavioral Model as applied to cybersecurity
The Huang and Pearlson Model as applied to cybersecurity
SANS research into cybersecurity and cultural transformation
The NIST NICE Framework for defining the cybersecurity workforce
Project Leader, CSA CCM 3.0 Mapping of 'Jericho Forum Commandments'
Project Founder, Independent Council for the Advancement of Cyber Security Ethics
International Association of Awareness Professionals (IASAP) engagement activities
Actively researching MITRE ATT&CK mappings and DBIR data analysis for behavioral targeting
Currently developing an awareness matrix across all of the most common cybersecurity best practices and compliance requirements
Public Presentations
Writing Security Policies People Will Actually Read
How to Avoid a Mushroom Cloud
Applied Mobile-Chaos Theory
What 'Hackers' Do
Preparing to Meet the Black Swan
Data in Motion and the Wheels of Jeopardy
Getting Your Head Right with Mindfulness-based Security
Career Planning and Advancement in Cybersecurity
The Business Case for Cybersecurity
SMARTER Risk Assessments
Toward a Standard of Due Care
Intrusion Detection Systems From A to Z
The Legal and Ethical Perils of Minimalist Compliance
Panel on Security Culture
Panel on the Future of Cloud Security
Panel on Professional Development in Information Security
Multiple additional in-house presentations for awareness and training purposes
Honors and Awards
Chi Sigma Iota National Honor Society, 2018-2021
Golden Key International Honor Society, 2019-2021
National Society of Leadership and Success, 2019-2021
John Levitow Leadership Award (USAF), bestowed in 1996
Multiple awards and recognitions from employers and professional associations
Work History (Cybersecurity)

SecureITExperts, Founder and Principal SecureIT Strategist, Orlando, FL (2015-Present)
SeaWorld Parks and Entertainment, Manager, Cybersecurity Operations, Orlando, FL (2020-2021)*
BBA Aviation/Signature Flight, Data Protection and PCI Compliance Lead, Orlando, FL (2018-2019)*
SAIC Corp., Principal Security Analyst – Strategy, Policy, and Training, Orlando, FL (2016-2017)
Aspect Technologies, Senior Security Analyst – Policy and Compliance, Orlando, FL (2015-2016)
SecureITExperts, Founder and Principal SecureIT Strategist, Seattle, WA (2012-2015)
Network Computing Architects, CISO, Security Practice Lead, and Principal Consultant, Seattle, WA (2011-2012)
Expedia, GRC Program Manager and PCI Technical Lead, Seattle, WA (2010-2011)*
Microsoft, Program Manager, Security Operations and Communications, Seattle, WA (2009-2010)*
Clearwire, PCI Compliance Lead and Senior Security Engineer, Seattle, WA (2009-2009)*
T-Mobile, Manager – Security Operations, Seattle, WA (2007-2009)
Microsoft, Program Manager – Vulnerability Remediation, Seattle, WA (2007-2007)*
Symetra Financial, Senior Security Specialist and Program Manager, Seattle, WA (2005-2006)
Microsoft, Security SME and Lead Instructional Designer, Seattle, WA (2004-2005)*
Nordstrom, Senior Security Engineer and Department Supervisor, Seattle, WA (2003-2005)
Airborne Express, Senior Information Security Analyst and Engineer, Seattle, WA (2002-2003)
Lucent Technologies, Information Systems and Security Consultant, Seattle, WA (2000-2002)
U.S. Air Force (Enlisted), NCOIC/Information Systems and Security Engineering (1991-2000)
* Denotes a short-term contract position of 6 to 12 months in length
Work History (Mental Health)
Awakening Into Life, Teacher, Guide, Counselor, Coach, and Mentor, Orlando, FL (2015-Present)
The Meaningful Life Center, Student Intern, 6-month Clinical Internship, Mental Health Counseling, Orlando, FL (2021)
Holistic Integrated Mental Health Services, Student Intern, 3-month Clinical Practicum, Mental Health Counseling, Orlando, FL (2020-2021)
Volunteer Work
Hospice Care, 1 year
Working with the Homeless, 5+ years
Mental Health and Wellness Advocacy, 3+ years
Red Cross Disaster Preparedness Volunteer, 2+ years
Additional Information
Currently in the application stage of pursuing a Ph.D. in psychology which emphasizes transformational potential, with a fall 2022 planned start – looking for a role that will allow my professional work and my academic pursuits to support and inform one another over the next several years.
Devoted to ongoing professional development activities in diverse areas that depart from traditional notions regarding 'what works' in cybersecurity – pushing boundaries and evangelizing innovative new approaches.
Deep emphasis on organizational and cultural transformation based on the principles of organizational psychology, functional behaviorism, and motivational science within a specific cybersecurity context.
A strong advocate for humor and levity within the domain of cybersecurity cultural transformation, drawing from evidence-based research that supports the use of humor to help facilitate change.
Previously held (and still eligible for) a Top-Secret Department of Defense security clearance with access to Sensitive Compartmented Information (TS-SCI).